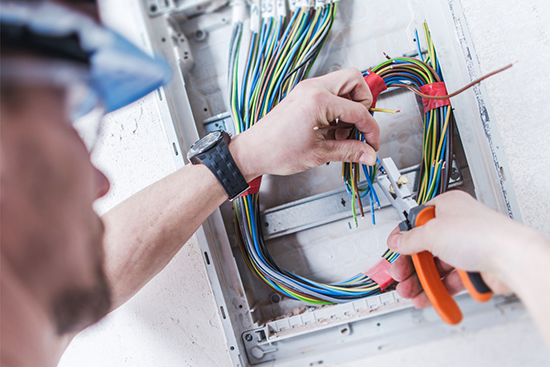 Owner operator is Stephen Ring located in the heart of stittsville with over 18 years of experience in the trade. We already work with a handful of custom home builders , renovation companies, landscapers and pool builders.
It's not necessary to search far and wide for a reputable electrician in Ottawa or the surrounding areas because Sting Electric is here and just a phone call away. We have a great reputation for providing first-rate work and we strive to complement our quality services with attentive customer care. We offer a full complement of electrical service packages tailored to the needs of our customers.
We have a rigorous screening process for our newly hired technicians and competency testing equivalent to province licensing, not to mention a long interview with the owner. Once our technicians have met these qualifications they are then put in the field with one of our electrical service managers. We do everything possible to make our technicians feel like team members and not just an employee. We want them happy when they knock on your door.
Make Us Your Trusted Partner
By relying on our electrical company in Ottawa or nearby areas, you stand to benefit from:
Complete satisfaction guarantee
Top-notch products and reliable installation and repair methods
Prompt responses and timely completion
Our goal is to provide you with the most honest and fair price that you will find anywhere in Ottawa and surrounding areas along with the most knowledgeable and professional electrical service. Our on-call team of licensed, bonded, and insured technicians are available to provide expert, professional, and prompt service for any need that may arise. Our courteous support staff is always available to provide professional customer support, and our project management team ensures each job is done on time and to the satisfaction of our clients. We also maintain a fleet of stocked vehicles to allow us to perform even the most diverse and highly specialized projects.
To Schedule A Free Estimate Or Service, Call Us